From School to Homeschool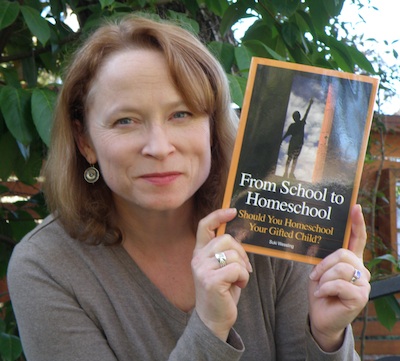 Is your unusual learner out of place in school?
Does your child act out in boredom or frustration?
Do you hate the word "gifted" but think it might describe your child?
Are you afraid you don't have what it takes to homeschool?
From School to Homeschool was written for parents like me who didn't start out as homeschoolers. We expected that our children would do well in school, or at least suffer through it as we did. However, school, kids, and parenting have changed in the intervening years. When we complained about boredom to our parents, it was unlikely they had other options for our education. When we acted out in school and were labeled "bad kids," no alternative educational approach was available to us. When our differences attracted bullies, our only option was to tough it out.
These days, parents of gifted kids have many more options, including homeschooling. My book will help you navigate the first years of homeschooling through the experience and advice of many "reluctant homeschoolers" who have cut a path through the jungle for the rest of us. Anyone moving a child from school to homeschool will benefit from the advice and resources in this book, as will those who counsel and educate newly homeschooled children. The book is especially aimed those of us with unusual learners. It draws on the help of many "gifted homeschoolers" who have come together to support each other in common experiences which may seem uncommon to parents of more typical learners. Each child is unique and has his or her own particular gifts. However, these kids we're calling "gifted" are children with special needs as much as a child born with Down Syndrome or a child who is dyslexic.
Buy From School to Homeschool:
From Great Potential Press » From a local bookseller » From Bookshop Santa Cruz » From Amazon »
For news about my book as well as many links to resources mentioned in the book, please visit my Links page.