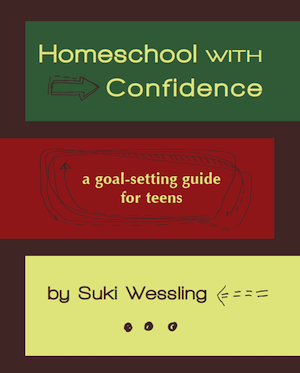 Welcome to my homeschool goal-setting page! On this page, you will find supporting materials for my book, Homeschool with Confidence: A Goal-Setting Guide for Teens. I wrote this book because other goal-setting curriculum I have used is very focused on school. And as we homeschoolers know, we're different (and proud of it)!
Join Suki's Parenting and Education List to get a notifications about this book. Join my Class Information List to find out about parent and teen workshops, in person and online.
On this page:
---
---
Purchase Homeschool with Confidence
Homeschool with Confidence
is available May 15, 2017 from Amazon.com and BN.com. It will be available in e-book format in the near future.
---
My goal-setting classes:
I teach online classes for teens and parents at Athena's Advanced Academy and offer in-person classes mostly in Santa Cruz, CA and nearby counties. Some of my classes are geared specifically toward homeschoolers, but most are for both schooling and homeschooling families. (My family has always been a bit of both!) Please join my email lists for notifications. Also, check my Parenting & Education Facebook Page for workshop announcements.
I am happy to set up goal-setting workshops for groups of 5 or more. Please contact me for information.
In-person courses:
In-person Goal-Setting for Sanity workshops for parents. We all know that raising teens can be stressful. Academically, emotionally, and socially they are in a time of huge transition and growth. Parent/teen interactions can become minefields where teens inevitably feel that they are misunderstood, and parents find themselves pushing buttons they didn't know were there. Helping teens learn about goal-setting offers new vocabulary and strategies for avoiding or resolving these conflicts. In this workshop, we will identify problems in our households, talk about the basics of goal-setting, and explore how this approach can help improve parent/teen relationships during the time of transition. This workshop will be geared to both homeschooling and schooling families.
In-person Goal-Setting for Teens workshops. Description: In this 1.5-hour teen workshop, writer and teacher Suki Wessling will spend a fun afternoon with teens talking about something that sounds pretty boring: goal-setting. How could this be fun? Well, in addition to snacks and the freedom to make all the funny faces you want, we'll talk about why your parents and teachers are so annoying and what you can do about it. We'll also talk about taking responsibility and all that other fun stuff you get from being an almost-grown-up.
Online courses:
---
Student downloads and links:
Introduction:
Chapter 1:
Chapter 2:
Chapter 3:
Chapter 4:
Chapter 5:
Chapter 6:
---
Recommended books for teens:
---
Parent downloads and links:
Downloads:
On my Blog:
Recommended books:
Articles