Journalism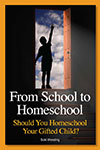 I write about parenting, gifted children, education, homeschooling, and other subjects. My book, From School to Homeschool: Should You Homeschool Your Gifted Child?, was published by Great Potential Press.
Exploring Homeschooling for Your Gifted Learner is a booklet I wrote for the National Association for Gifted Children. I also write for a variety of publications on homeschooling, education, gifted children, and parenting. From 2009 to 2012, I was the National Gifted Children Examiner--my archived articles are available on Examiner.com.
My blog, The Babblery, is where I post my various ideas about life, literature, health, education, and parenting. It incorporates my previous blog, Avant Parenting, which explored the life of parenting precocious, intense kids. My image of homeschooling my kids is me running along behind them, throwing tidbits of ideas and hoping something will land in their paths.
You can find me at various conferences, such as the California Adventures in Homeschooling conference, the California Association for the Gifted Conference, the SENG Conference, and NAGC.
Find
more information about From School to Homeschool here
, along with links to articles I have written.
Fiction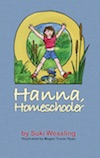 I have been writing fiction since I wrote a post-apocolyptic, dystopian novel on purple notebook paper in the third grade. I have an MFA from the University of Michigan and a good number of my short stories for adults were published back when I was working on that. [Here's an example. And another.] I also have a few adult novels stored away that I may go back to.
I am currently focusing on writing children's fiction, with my a chapter book titled Hanna, Homeschooler published in January, 2016. I have three other finished manuscripts seeking homes: A picture book titled Queen Anne, a middle grade novel titled Summer of Solitude, and a non-fiction book titled A Redwood Forest in my Backyard.
I tend to write fiction that does not adhere to received wisdom about "what fiction should be." I enjoy turning a reader's expectations on end, because that is when people really start to think.